WITH ARTGENCE 3D, EXHIBIT IN 3D
Nothing will ever replace direct contact with people and artworks. But in this new era, it becomes vital to offer your buyers and collectors a new online experience, as close as possible to a visit in your gallery.
That's why we offer you a unique 3D experience that is much more immersive than existing solutions:
We create your real interactive and personalized 3D gallery (not a simple virtual visit or viewing room)
You can hang and unhang your artwork with a simple click at the rhythm of your exhibitions
Your visitors are immersed in a 3D world as if they were physically entering your gallery with an impressive realism and fluidity of movement
Exhibit your collections in 3D, outside your walls, all over the world, 24 hours a day, on computers, smartphones or tablets (and without downloading an app or 3D tool)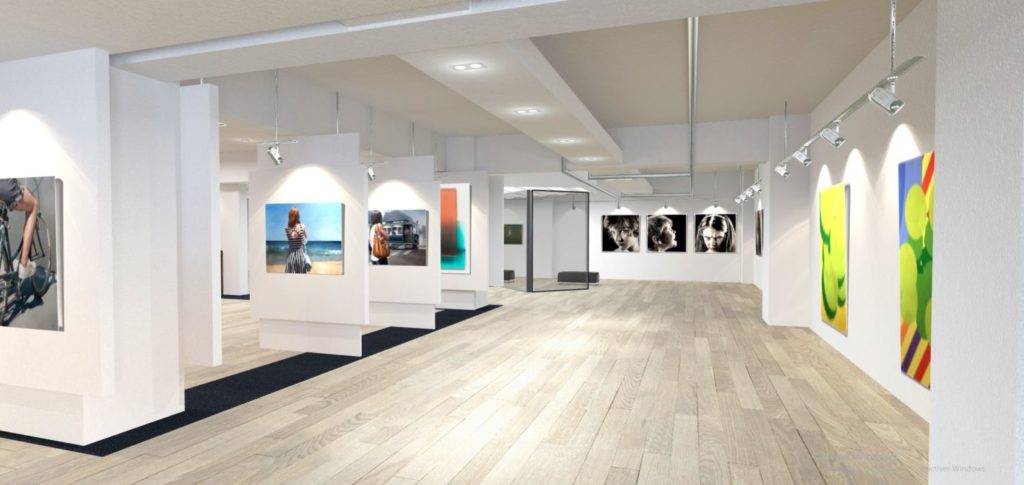 IN THE NEWS
 IT IS ALL AROUND US
This unique immersive exhibition sponsored by Artgence shows the infinite possibilities of NFT artworks. The 11 artists showcased in this exhibition represent the variety of ways the digital world can be utilized to create artworks that transcend our physical world. Artgence3D is a premium virtual 3D gallery experience that expands the possibilities of viewing art beyond physical boundaries.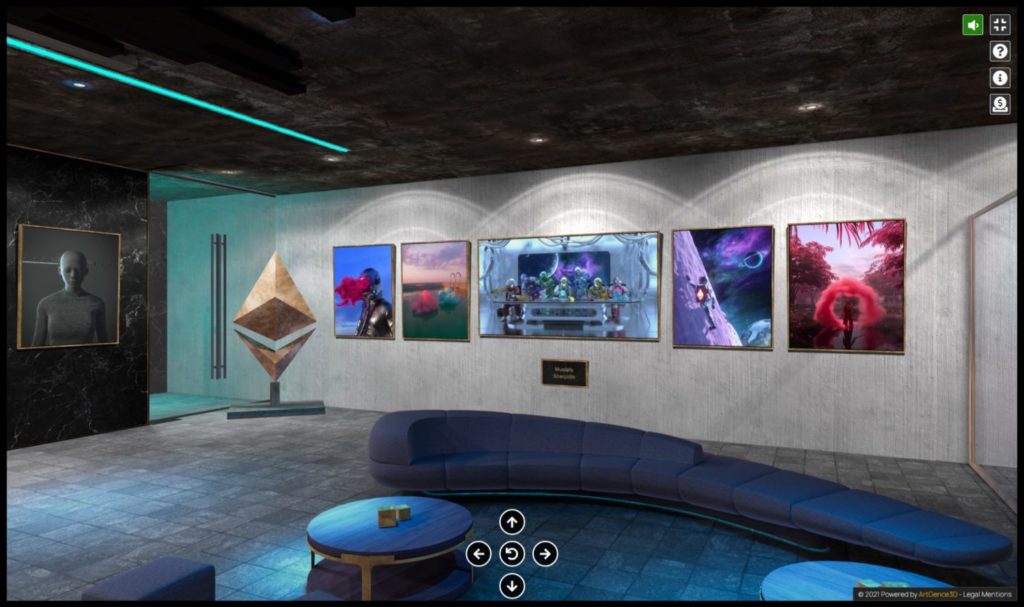 FESTIVAL ÎLE DE RÉ PHOTO 2021
ÎLE DE RÉ PHOTO 2021 Festival is an international islander festival dedicated to art photography with more than 50 photographers and 750 images spread across 42 galleries. 2021 Guest of Honor is the very famous Studio Harcourt, temple of excellence in portrait photography since 1934, and a "passage obligé" till today for cinema celebrities.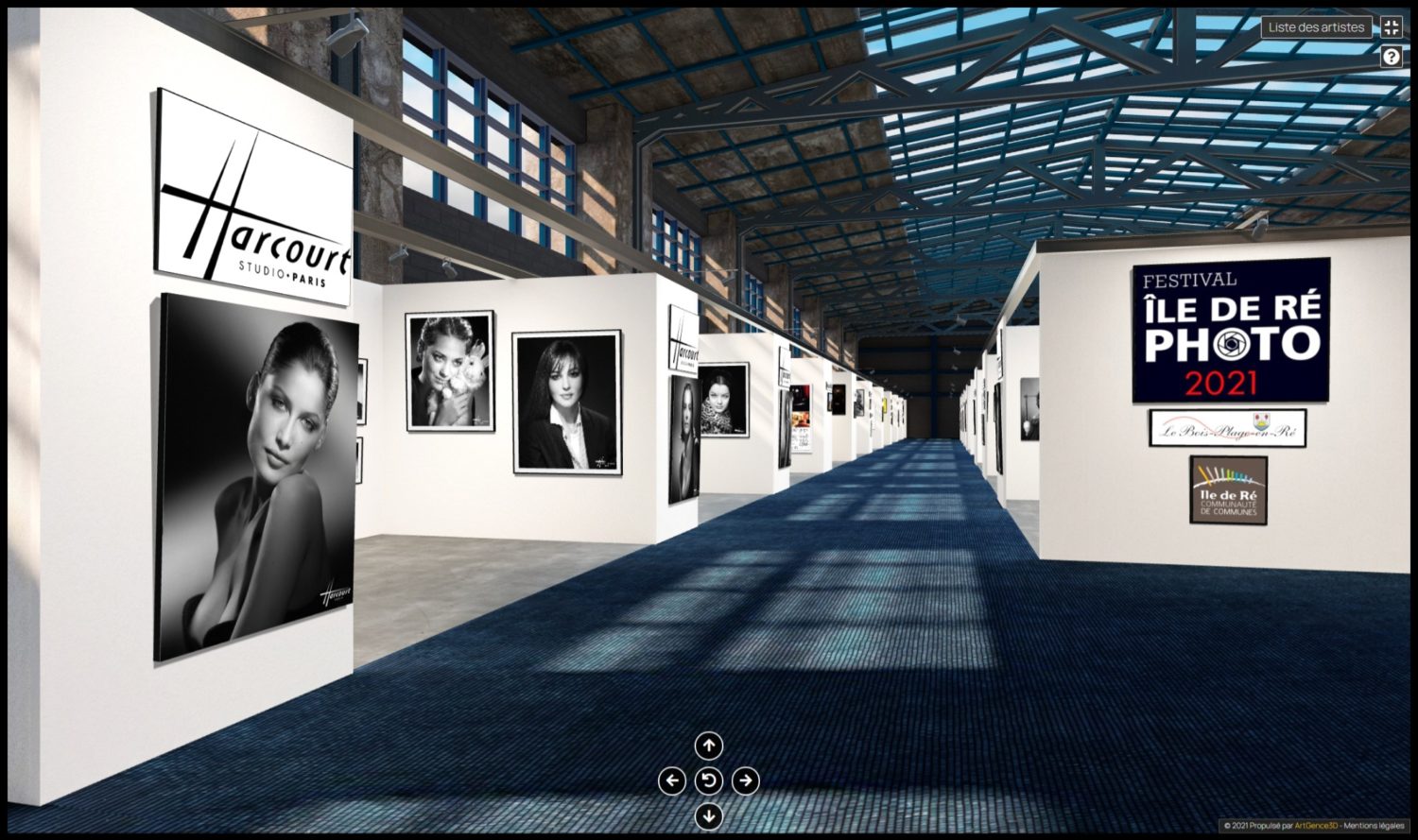 A TOTAL IMMERSION IN 3D FOR YOUR VISITORS
Your visitors have access via computer or smartphone to your 3D gallery which is a premium high-definition 3D website (and not a simple " frozen 360° virtual tour" with many visual distortions).
Your visitors live a unique experience as in a real gallery and move with ease in the 3D gallery space according to very intuitive navigation modes.
They can move to the artworks of their choice, approach them, zoom in for details, display them in full screen, turn around a sculpture, read more information, contact the artist, and even buy the work directly online (e-commerce option).
Many options are available: guided tour, slideshow mode, chat, video screens, 3D objects (like sculptures)…
Your 3D gallery is already compatible with the new Virtual Reality headsets that will soon conquer the market.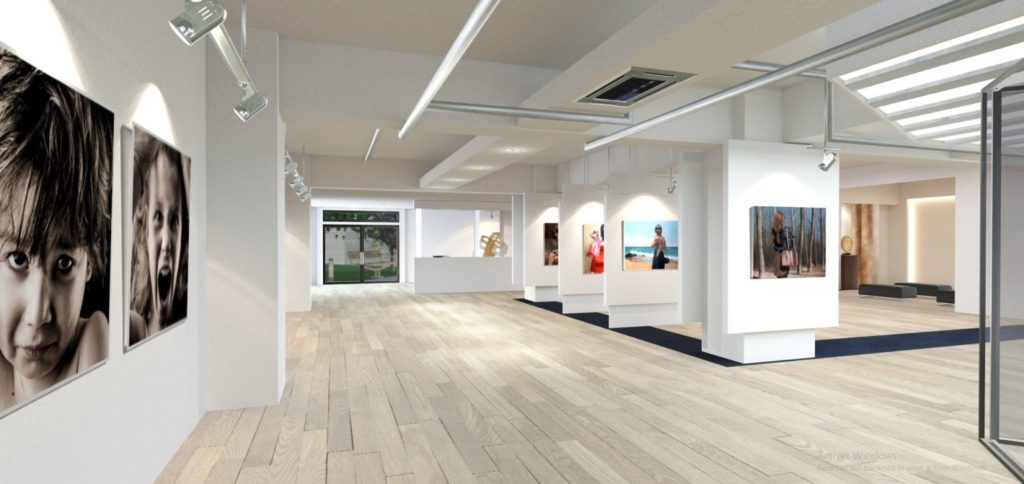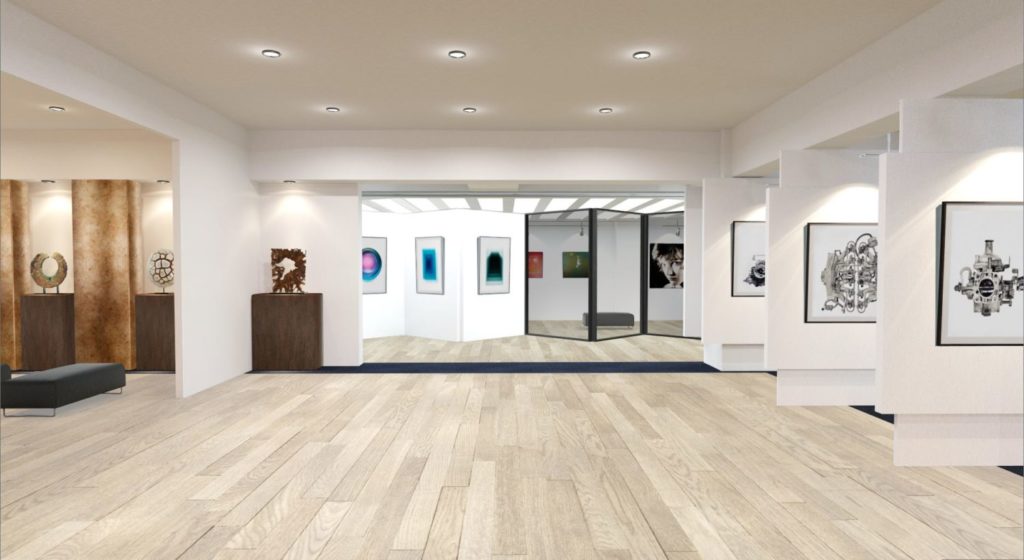 A MULTIPLIED VISIBILITY
Your 3D gallery is accessible on computer, tablet, smartphone 24 hours a day, anywhere in the world (and without downloading any additional software).
Your 3D gallery is a spectacular extension of your gallery, your website, your social media presence.
Your 3D gallery can be easily integrated into your existing website or have a standalone presence.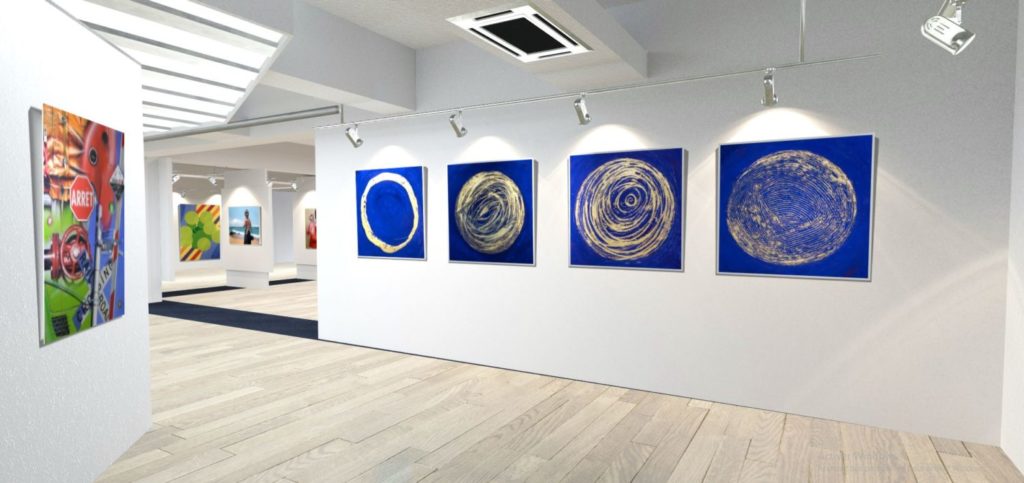 MODIFIABLE IN A FEW CLICKS
Unlike a simple 3D virtual tour with limited possibilities, our solution is very easily updated.
You can update your 3D gallery in a few clicks (paintings, photos, sculptures) to the rhythm of your openings and exhibitions. You can create and maintain thematic and temporary exhibitions. You can create private spaces with selections of artworks and invite your VIP clients. You can prepare hangings by simulating them in your 3D gallery. There is no limit… And you choose: we manage your 3D gallery or we train your teams to do so.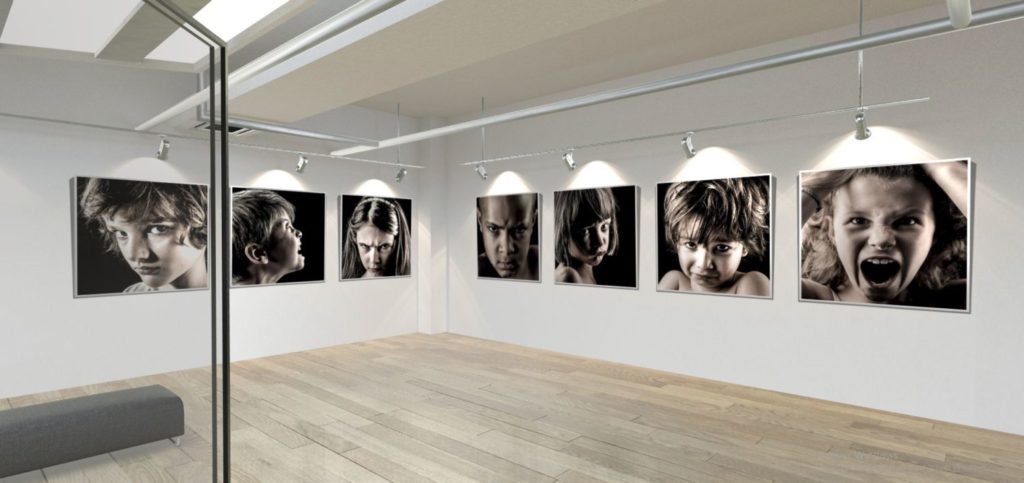 4 FORMULAS FOR YOUR 3D GALLERY
With for each formula, we propose : hosting and maintenance options, training for your complete autonomy and e-commerce features for the online sale of your works.
STANDARD GALLERY 3D 100 m2 ( DOUBLE : 200 m2)
This is the ideal solution for an artist, a group of artists or an independent gallery. We customize a 100 m2 (200 m2) gallery to your taste and choice.
We realize with you the first hanging and we train you to manage your next exhibition yourself.
Open your 3D gallery, put it online and exhibit in 3D around the world. Change your exhibition whenever you want.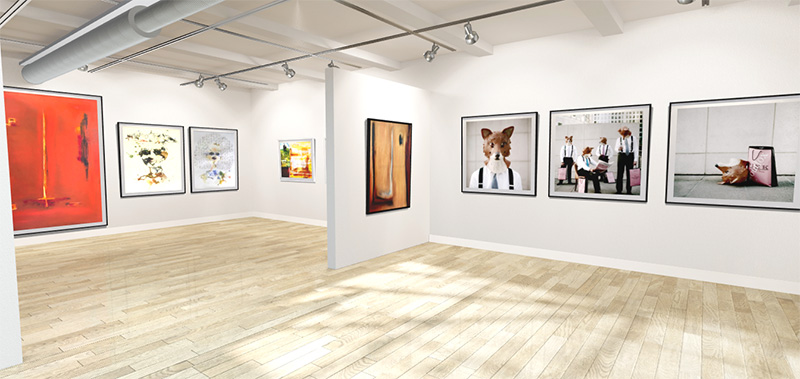 PREMIUM 3D GALLERY 400-600 m2

You already have a gallery or you exhibit during artfairs: with your 3D Gallery, extend your visibility beyond your walls. We customize for you a 3D gallery between 400 and 600 m2 with a capacity of more than 100 works. You invite your clients and prospects from all over the world, 24 hours a day, to visit your 3D gallery in total immersion.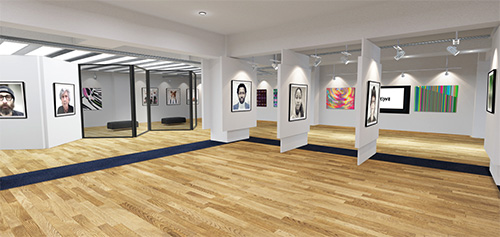 3D CUSTOM GALLERY
Beyond your physical gallery, you want to have a digital presence 24 hours a day, around the world for an even more demanding and connected audience. We build with you your ideal 3D gallery according to plan or we reproduce faithfully your physical gallery.
This solution is also suitable for Foundations and all art exhibition premices.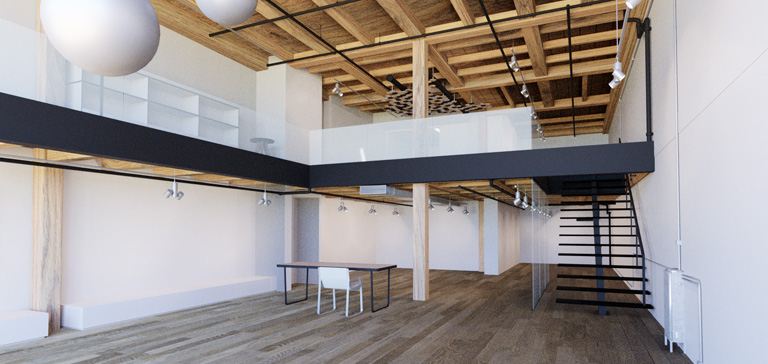 ARTFAIR 3D
In an increasingly uncertain world where your international will travel less often, all events such as artfairs and exhibitions need their digital "double" to reach more visitors. Solutions and experiences have flourished since 2020, but with rather disappointing results: frozen 360° virtual tours with visual distortions, viewing rooms with little interest, average quality of reproduction in 3D, deficient navigation … Our ARTFAIR 3D solution is impressive in its realism and fluidity of movement. Judge for yourself by visiting one of our 3D exhibition.
 OPENEYE by ARTGENCE
"Confinement, waiting for the rebirth" produced in collaboration with the online photo magazine OPENEYE:
3 000 m2, 42 stands, 100 artists, 700 photos exhibited…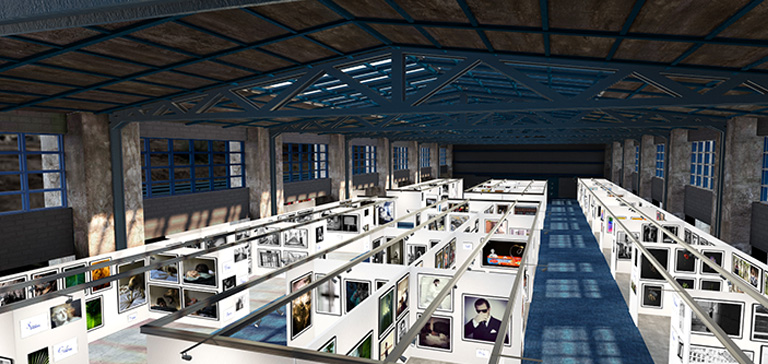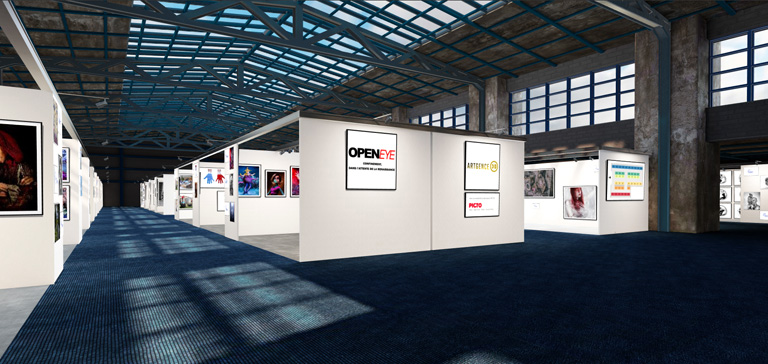 For any information or discussion for your projects, contact:
Philippe Thoniel
philippe.thoniel@nextlevelcom.fr
06 87  75 05 83
Marques Hardin (International)
info@artgence.co
+ 1 3106144426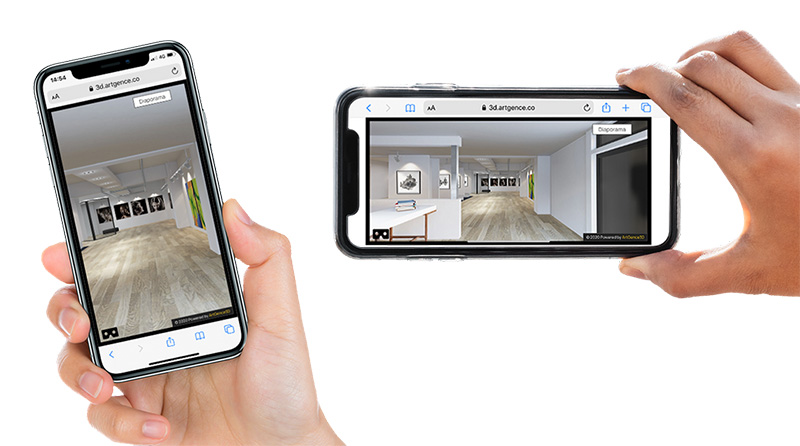 See our video demo
See our last exhibition